DVDs offered for sale
"Once More with Feeling"
A tribute to Dance Legend Bert Balladine. This DVD features performances,
interviews and philosophies by the legendary Bert Balladine depicting a lifetime
of dance memories and accomplishments. Includes performances by Amaya and Amina Goodyear.

"Classic Stars of Bellydance"
Filmed in 1974 and released in 1976 under the title "Gameel Gamal" (Oh!
Beautiful Dancer), it presents a brief history of belly dancing in San Francisco.
Includes performances by DeAnn of Light Rain and Amina Goodyear.

"Nadia in America"
Egyptian dance star Nadia Hamdi performs Oriental, Melayya Lef and Shamadan
in San Francisco. Also features Amina Goodyear and The Aswan Dancers.
"Hizz ya Wiz"
Hizz ya Wiz or "shake yer booty," is the visual journey through the first 20
years of the Aswan Dancers. This is dance history of the 70's and 80's in San Francisco.

DVDs are $20 each. Add $5 for shipping and handling.

If you want all 4 DVDs - $80 - shipping and handling included
Checks payable to:
The Aswan Dancers, 829 Elizabeth St. San Francisco, CA 94114


"CLASSIC STARS OF BELLYDANCE"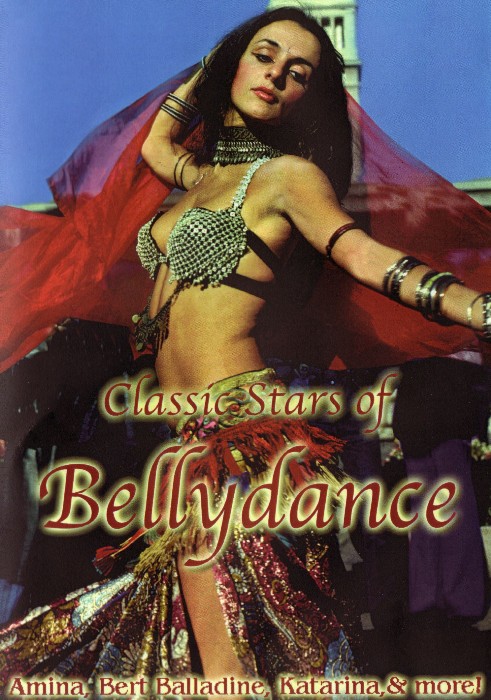 Filmed in 1974 and released in 1976 under the title "Gameel Gamal" (Oh! Beautiful Dancer), Gordon Inkeles' 25 minute short played several film festivals and then vanished for 30 years. It presents a brief history of belly dancing, then the story of two young dancers, Katarina (pictured) and Taia, who are breaking into an apparently thriving belly dance scene in San Francisco. The new title is appropriate. The film contains entire belly dances by Katarina and Taia, and also by their senior, Amina, who tells them they should perform as if dancing for a king. We later see her dance, and that's exactly what she does. Though short, the film is a satisfying introduction to belly-dance aesthetics, in that each of these classic dancers brings a special quality, a special talent and a slightly different approach to her work. But the film is something more, an unexpectedly touching document of this city a generation ago. I found out about the film because (full disclosure) I'm a friend of Katarina's -- known today as Stanford acting teacher Kay Kostopoulos and as the vocalist for Black Olive Jazz. I'm glad I did, because even beyond the belly-dance aspect, there's something
magical and wistful about traveling in this time machine and finding yourself on some lost yet vibrant afternoon, watching De Ann Adams (Miss Sonoma County 1968) perform an extended dance by the Embarcadero. Not everyone will be moved, but if you loved the '70s, you'll understand."
Review by Mick LaSalle of the San Francisco Chronicle, Sunday, July 1, 2007.

If you like this video and would like to see more, why don't you also consider "Hizz ya Wiz" which is also a little bit of history and lots of dancing or "Nadia in America" featuring Nadia Hamdi. (Both of these videos also feature Amina and The Aswan Dancers.)
Classic Stars of Bellydance - $19.95
Hizz ya Wiz and Nadia in America in the original vhs format or dvd $20 each (dvd copied on my equipment) Please specify vhs or dvd

If you wish any or all of these videos please send check to The Aswan Dancers, 829 Elizabeth St. San Francisco, CA 94114 and indicate what you would like.
Add $5 for shipping and handling

for more information on Hizz ya Wiz or Nadia in America, see below.
"Amina, I just wanted to take a minute to say I loved your videos. Hiz ya Wiz is personal and passionate and a beautifully done documentary. Nadia in America is one of the best-produced and most exciting show videos I have ever seen. Bravo!" Donna
Hizz ya Wiz
20 Years of Aswans Dancing
Recalled on Video by Amina
by Stefania
Hizz ya Wiz is the Arabic equivalent of "shake yer booty," the English phrase popularized in the 1970's by K.C. and the Sunshine Band. Hizz ya Wiz is also the visual journey through the 20-year history of the Aswan Dancers, from humble beginnings as a dream Amina Goodyear had while dancing at San Francisco's Bagdad Cabaret, to today's highly regarded dance group. Amina and editor Gregory Burke released the Hizz ya Wiz video to coincide with the huge Aswan Dancers' 20th Anniversary celebration (in 1995).
Amina has given viewers a wealth of information about the Aswan Dancers on Hizz ya Wiz. It is packed with over 90 minutes of dancing, with Amina's narration describing each vignette. An insert gives the name of each dance, where it was performed, and the performance date. The cover even features the wonderful cartoon of the Aswans, created by Mark Bode and Kevin Eastman, that originally was used in a Teenage Mutant Ninja Turtles comic. (Turtles artist Mark Bode is married to one of the original Aswan Dancers.)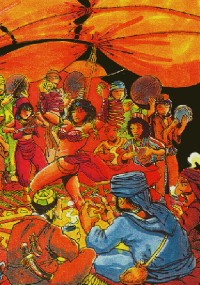 As you might conclude from the witty dances on Hizz ya Wiz, Amina is an adventurous, offbeat, humorous person. She's also more self-effacing than you'd expect from an individual with her track record. (Amina was inducted into the Belly Dance Hall of Fame a few years ago, something she seldom mentions.)
The troupe has had many permutations, with casts both large and small, performing everything from strictly Egyptian folkloric, to Raks Sharki, to massive theatricals where humor and satire were their reasons for being. The key point is, the Aswans never stopped since 1975; they just kept metamorphosing.
The name Aswan Dancers conjures up images of Southern Egypt, and makes you expect the group to perform Nubian dancing with some Saidi or Ghawazee.The group actually performs dances from all over the Arab world, but they do specialize in Egyptian dance.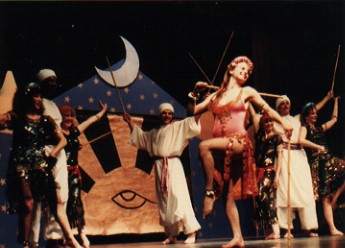 The dances on the video - the real - the "fake," and the funny are loosely organized by category. As Amina explains, "We have folkoric sections showing debkes, "Ghawazee", dervish and, of course, Nubian. Other sections show Oriental dance, since most of the female Aswan Dancers are also trained, working belly dancers. Also there are the theatrical dances done only once for a particular show.
The Hizz ya Wiz video begins with several gauzy clips of Amina performing as the Bagdad. Her narration notalgically recalls Egyptian dancer Fatma Akef, her teacher and primary influence. Fatma is a sister of movie star and dancer, Naima Akef; they come from one of Egypt's largest circus families, evident in the lively sequence with Fatma and her parrot Laura.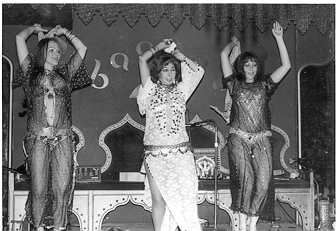 Tuta, Fatma and Amina at the Bagdad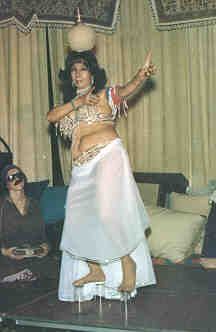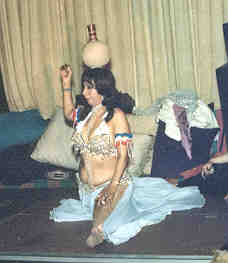 Fatma Akef
The early Aswans performed more straight (as in non-comedic) folklore. they flirted with the "Pharaonic" dance. They also did numerous debkes, Moroccan dances and Turkish karshlama, with some of the women wearing moustaches and dancing boys' parts. Nevertheless, humor entered occasionally - witness the sudden appearance of a Amina tap dancing in an otherwise straight performance of Leylet Hob.
In this period, Amina introduced wht was to become an Aswan signature piece, the "Ghawazee" influenced Tfarag al Halawa. Several versions of Tfarag appear on the video, each performed by a different cast in different costumes.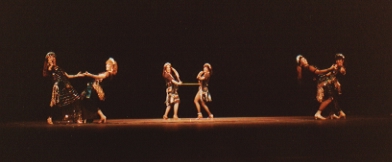 The second phase in the Aswan's history began in 1982 with their first evening length performance, "Three Lost Tales form 1001 Nights,". Several clips appear on Hizz ya Wiz. In this show Amina stopped putting moustaches on the girls and inducted five men into the troupe. The new cast numbered sometimes as many as 16 members. The new repertory introduced sailors from Alexandria, Saudi's in traditional garb, and in case, a debke line of men and women performing Tallou Essayade that overflowed the stage where it was presented.
The group developed a huge following for their large scale performances, such as the ambitious Cairo Cabaret series of the late 80's. Shows like the two hour long satire "Christopher Columbus Discovers Bagdadby the Bay," were the order of the day. They involved a great deal of hard work and organization on the part of Amina and assistant director Shamira. The riotous finale for this show, involving Vikings, Indians (Native Americans), and Indians (from India) appears on Hizz ya Wiz, ostensibly to show how serious Aswan performances had become.
This was also the era of the "flirtatious" dances that have become Aswan trademarks. According to Amina, these are the coquettish, "I'll do anything to manipulate you, Mohammed Ali Street type of dances." For example, on the video the dance Ya Hassan, with music from the movie Khallee Balek min Zou Zou, illustrates a flirtation between an Oriental dancer and an unsuspecting Egyptian aristocrat.
During the mid-1980's, the Aswans built a reputation for their comedy performances - a tradition that still continues to this day. Amina said "The comedy dances we do are in the tradition of the Egyptian "silly" dances."
An important highlight of the Cairo Cabaret shows was the live music performed by the local Arabic musicians that Amina had met through the various San Francisco Bay Area restaurants and nightclubs. Amina feltthat due to the closing of some of the Arabic nightclubs in San Francisco, dancing to live music had to be promoted. The Cairo Cabaret music ensembles involved an ever changing cast, including American born as well as Arab born musicians, and sometimes even musicians visiting from them Middle East. This ever changing cast of characters was ultimately dubbed "the Cairo Cats." The Cairo Cats music and particularly, the drum solos, were so popular that people asked for tape recordings of the music.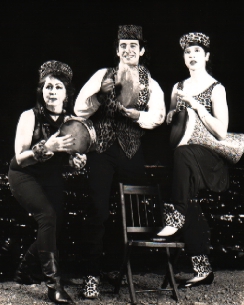 This is where Amina's daughter Susu Pampanin became a prominent part of every Aswan show. The early Cats were Susu's training ground for becoming the highly respected percussionist that she is today. Throughout Hizz ya Wiz you can spot Susu leading the huge percussion ensembles, which also included the dancers playing finger cymbals and duffs. Exchanges between the drummers and the dancers were featured and, eventually, became choreographed by Amina.
The third phase of the Aswans' career began in 1988. This cast of the Aswan Dancers are strong soloists as well as group dancers. They performed the folkloric dances and became known especially for their Nubian and spectacular Dervish routines.
Hizz ya Wiz is a video documentary featuring dozens of folkloric and Oriental dances. Your video library is not complete without this wonderful exciting professionally produced video.
"Dear Amina, I just finished watching your video, and it blew me away! What a project - all that dance footage, put together so well, and telling such a wonderful story. You should be very proud of this video. It's a work of art. Usually I watch a video once and FF alot. Not this one!" Love, Lynda
******************************************************************************************************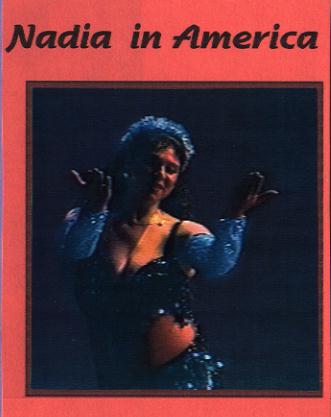 "Dear Amina, I was so happy to get the video "Nadia in America". All I can say is that it was more than well worth the wait. The video and the music, all of the performers are just wonderful. It is the most exciting video I have seen in some time now. Nadia is such a great performer, such an expert. She is literally bursting with joy. Thank you very much. All the best." Anita
"Dear Amina, Yes! Yes! I really loved "Nadia in America" at my 56th birthday dance camp!! It was very inspiring and fun! I hope you have or are planning more magical videos featuring the Aswan Dancers, yourself and collaboration with visiting dancers! Best of luck and love" Kathleen