The Gilded Serpent presents..."One Ad Changed My Life"
by Amina Goodyear

It was July 1965, and I had just had a baby. I felt old and out of shape. I was the mother of three kids aged 3 days, 1year and 2 years. I was 23 and I had just left the hospital wearing baggy clothes. After my other two children were born, I left the hospital wearing normal clothes - pre-pregnancy clothes - and could zip them up. This time, although I had only gained 24 pounds, I could not zip my skirt.
I was very desperate and determined to get back to my old self... click to continue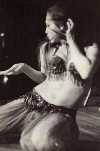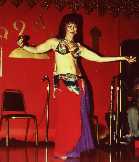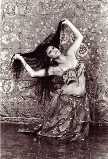 The Gilded Serpent presents..."I'd Rather Stay Home with my Kids"
by Amina Goodyear


.......Well, I decided to be brave and I put my leotard and a veil in my purse and went to the Bagdad (the only club in town) to ask for an audition. Just like in the movies!
My husband dropped me off at the Bagdad on Broadway (San Francisco) and I was greeted by a very large door person. She must have weighed more than 300 lbs. and was over 6' tall. It was very intimidating. We passed through striped metallic curtains, through beaded curtains and into another land of incense, cigarette smoke, candles and red lights. She told me there was a "two drink minimum". ("Two drink minimum"? I didn't even drink alcohol!) I told her I didn't want a drink; I only wanted to speak to the owner about a job. She then seated me in a corner near the stage. What seemed like hours later, a short, foreign-looking man wearing a red fez came over and asked if I had a costume...click to continue
Gilded Serpent presents...A Marriage Made in North Beach
by Amina Goodyear

.So, on the very next night, I showed up as a real live Belly dancer at the Bagdad Cabaret (on Broadway, in San Francisco). It felt exciting, but very scary at the same time, to be dancing on the same stage as professional dancers! With the exception of my new dance friend, Aziza!, who hailed from Walnut Creek, the other two dancers with whom I worked were from the Middle East. Aisha Ghul was from Turkey, and Fatma Akef was from Egypt; it almost felt as if I were in a foreign country... clickto continue
Amina began dancing professionally in 1966 at San Francisco's famous Bagdad Cabaret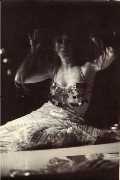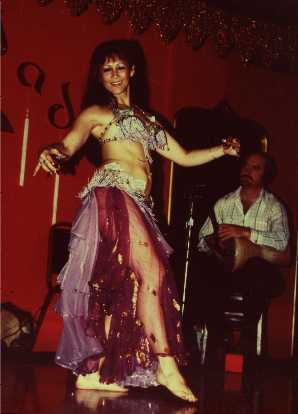 where she was the principal nightly dancer for twenty years.
excerpt from The Gilded Serpent presents...Smokin'
by Amina Goodyear
,,,Najma and I became friends because we had much in common, as she was a single mother of two pre-school girls and I had three pre-school children. We often hung out together in the daytime after my husband went to work. I would pick her up and with our five, (yes five) babies, all under four years of age, we would go to places like Home Yardage on Geary St. or Dance Art on Powell St. and scour the stores for fabrics to make our costumes. Although Home Yardage was larger and less expensive and had lots of satin blanket binding for the bottoms of our skirts, we were more fond of Dance Art because of their large variety of chiffons and trims. Dance Art also provided a black-light room where we could test our glow-in-the-dark fabrics.

It was quite an ordeal trying to control five screaming babies crawling and wandering and getting lost in the aisles of bolt after bolt of fabric. In those days there were no "store-bought" costumes; there were only costumes we made ourselves!

At night Najma and I took a break from reality. At work there were no babies, no responsibilities and no money worries; but it was hard to make our changeover, and transform ourselves into happy, sexy entertainers with no apparent problems. We wanted to look relaxed and happy in order to please the customers and fulfill our role as professional dancers... click to read entire article
The Gilded Serpent presents...Listen to the Music
by Amina Goodyear

We always started at 8 pm whether there was an audience or not. The "Barker", dressed as "Aladdin" so we could be seen from the street through the rattling, beaded curtains, would pull the velvet curtains open. There was something enticing about being on the outside and almost being able to see the foreign-looking harem dancers on the inside.

Yousef wanted us to look exotic, like we were from the Middle East, so he made us stay downstairs, look available and wear sexy, skimpy pantaloon outfits or diaphanous caftans when we were not dancing... click to continue
excerpt from The Gilded Serpent presents...Amina's North Beach Memories, Bert
by Amina Goodyear
...At the time, I was working at the Bagdad six nights a week and had Mondays off. The Casa Madrid was slow on Mondays so Cruz decided to try "Monday Night is Arabian Night" at his club. Bert suggested they try me out, as I was the new face in the scene...click to read entire article
The Gilded Serpent presents...Yousef – Black Lights and Veils
by Amina Goodyear
Although I was working 6 to 7 nights a weeks, 3 shows a night for several months, I was still quite excited about working as a dancer in a nightclub.
I must admit that my days with my 3 kids were spent daydreaming about the nights. The stage, the music, the lights, the anticipation of dressing up and being glamorous – that was all I thought of. During the day I was "Suzie Homemaker" complete with apron, but each night I became "Amina the Beautiful Dancer all the way from Upstairs". The newness was not wearing off because every night brought a new experience. Each dance was special and to me it didn't even matter if there was an audience. Since I was the new dancer and I actually liked dancing first in order to change personalities from "mom" to Amina, I got to dance first very often to a house waiting for its first customer. But it didn't matter to me, because for me it wasn't about the customers; it was about the "high" I got when the music and I meshed... click to continue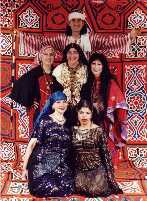 In 1976 she founded the Aswan Dancers, the premiere Egyptian Dance Company
now celebrating 30 years of continuous performing.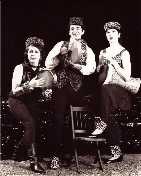 In 1986 she founded and played percussion with The Cairo Cats Band,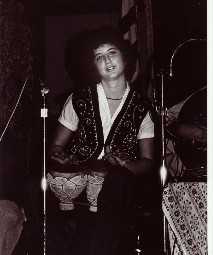 directed by her daughter, Susu Pampanin.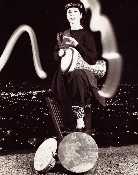 Susu later went on to produce the very popular cassette and now CD -Tabelli ya Susu -Live at the Giza Club with Susu and The Cairo Cats.
Ten years later Amina co-founded Salamat Sundays
From The Gilded Serpent -Review of Valentine's Party - Salamat Sundays - at El Valenciano
by Amina Goodyear
It was the end of January, we had just had the Eid el Fotour at El Valenciano and felt good. Our customers had brought in balloons, and candy for the the breaking of the fast for Ramadan and we didn't want to stop the party feeling that we were starting to have with our audience. Jacques (Al Asmar) and I were wondering what other party we could have at our Salamat Sundays and we realized that this year Valentine's Day fell on Sunday. At first I was dismayed. Would my "Valentine" want to celebrate the day a day early or would he be mad that I would rather be at Salamat Sundays? Well, I shouldn't have worried because when I suggested that we do Valentine's a day early, he said, "No" - that he would rather have dinner and hang out at El Valenciano with me - even though he knew that hanging out with me would be hanging out alone since I would be on stage playing percussion all evening...click to continue
and The Arabian Knights Band with Jacques al Asmar.
The Gilded Serpent presents...How to Start a Middle Eastern Band or How The Arabian Knights Came About
by Amina Goodyear

The dream of having our own band came about when Jacques and I went to Egypt together about three and a half years ago. We spent every night for three weeks at a club or hotel watching dance shows, and fantasizing having musicians at our command; ready, willing and able to play the "ultimate" music to perfection so that our dance shows could also be done to perfection.
We argued about the possibility of realizing our dream. Would it be possible to have musicians and singers be that consistent and (for choreography) play the pieces exactly the same? Our conclusion, after repeatedly seeing some shows at the same clubs, was that, yes! It was possible to have the same pieces played exactly. The energy between musicians, singer(s) and dancer(s) might vary, but the show would always be exact and good. Some shows could be memorable, some exciting, some great, but at least, the they would always be good!
We dreamed of a band that would play music to make us look good always...click to continue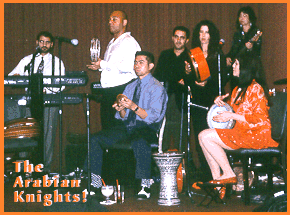 The Arabian Knights Band enjoyed a ten year run of continuously working every week in clubs as well as other venues.
Amina played backup percussion for the musicians playing in and with The Arabian Knights Band. Some of these musicians includedSusu Pampanin, Reda Darwish, Fouad Marzouk, and Georges, Elias and Tony Lammam. Other members of the Arabian Knights Band included Jacques al Asmar, Loay Dahbour, Husain Dixon, Issa Sweidan, Raed alKawaja, Khader and vocalists Fadi Hanani and Jamal Kassab.
from The Gilded Serpent - Make a Giza Club!
by Amina Goodyear
I had been reading about the bohemian culture and about someone who had a round table salon every week at her house. People would just drop by and eat and drink and exchange ideas. They would inspire each other to create. It was a salon of artists and free thinkers. What an interesting concept of regularly gathering together to mingle with artists, writers, musicians, dancers and other interesting bohemian free-thinking characters. Yes, why not be part of an "art" salon, but where could we find one? (Especially an art salon with people interested in the Middle East in the middle of San Francisco.)...click to continue
In 1991, Amina created the Giza Club, an Arabic cultural organization that sponsors dancers and musicians, cultural lectures and performances. Giza Club members are worldwide and with partner Gregory Burke guide the Giza Academy of Music and Legends of Middle Eastern Dance Videos (The Giza Awards) and the Giza Film Festival.
In 1994 Amina was inducted into the Middle Eastern Hall of Fame in New York.
the documentary"Hizz ya Wiz," and "Nadia in America," with the Egyptian star Nadia Hamdi.
Amina's teaching career began in 1971. As a master Dance teacher, Amina also teaches Percussion and Arabic Song Translation, pointing out that understanding the rhythms and the meaning of the music and song is key tounderstanding the dance.
Besides her six regular Dance classes a week, she also hosts a weekly drum session.
In addition, she has a full schedule of private classes,
.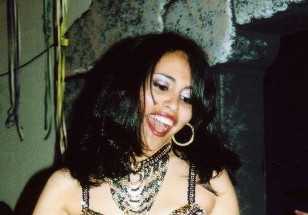 focusing on training dancers for professional performance
Amina continues to study here and abroad, and is active teaching daily classes and performing dance and percussion at least once a week, if not more.
Amina also sings or plays in the orchestra with ASWAT, the only Arabic choir in the San Francisco Bay Area. ASWAT specializes in classical Arabic music and performs biannually with the best local Arabic musicians and visiting international stars.The most recept performance May 8, 2010 at College of San Mateo was a sold-out (turn-away) concert.
She still dances with and choreographs for The Aswan Dancers. Most recently they performed weekly at an Egyptian Club until it closed. As a favorite of the Arabic community, she always has a venue at Middle Eastern nightclubs where she dances and performs percussion with the Band while spotlighting her students as well as local favorite professional dancers.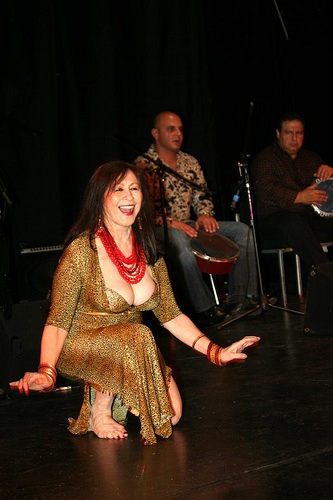 She currently can be seen performing with Georges Lammam's Band every Friday night (and sometimes more) at Pena Pachamama in San Francisco's North Beach. Besides playing riq with the band, she sometimes dances and always encourages the other dancers who are performing -many of whom are or were her students.
With more than forty years of Middle Eastern Dance experience, Amina feels that she has just now reached her full teaching potential and enjoys teaching classes and coaching professional and award winning dancers.
For all of Amina's articles on her North Beach beginnings check gildedserpent
Besides currently working of the Giza Academy Awards and scheduling films for the next Giza Film Festival, Amina spends her spare time archiving and collecting film and video footage of rare and classic music concerts, singers, Egyptian movies and documentaries.
Her collection of music ranging from sufi to classic to traditional to pop to belly dance to shaabi is undeniably one of the largest collections around. One of her hobbies is to convert many rare songs from LP records and cassettes to CD and more modern media. This, like the film and video archiving, will probably be a life-long project.
In her spare time she enjoys taking percussion lessons, hosting and taking dance workshops, writing articles and reviews for gildedserpent.com, and coordinating more Giza Club events. A new project in the works is new pages on her website featuring
Favorite CDs (for class, for performance or just for listening),
Favorite DVDs - (movies) - See Giza Academy for a great list of other DVDs
Favorite books for research.
Look for these new pages (soon)
Besides all this - Amina is a collector - (can you tell?)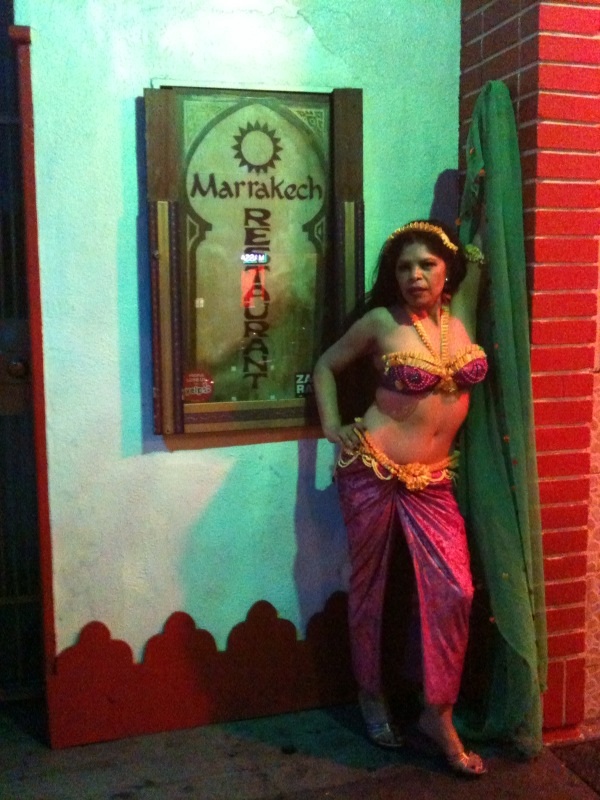 Recently provided costumes for
Harem Nights - A Dancing Fashion Show
at the Marakkech Restaurant in San Francisco
Enjoy the video below - Amina dancing at Pena Pachamama
Click above to see dance at PenaPachamama with the Georges Lammam Ensemble.
We perform Friday nights
For information aminajune@aol.com
or call 415-282-7910