Irina Eshta Belly Dance Queen of Carnival of Stars 2014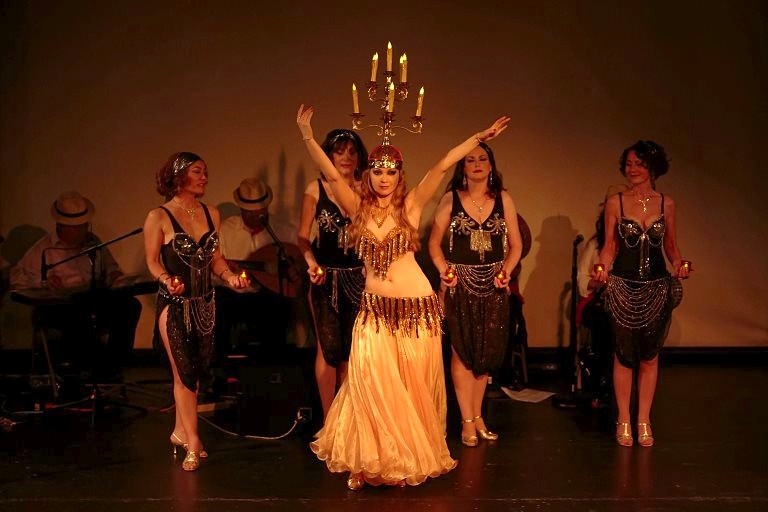 Irina Eshta's performance is a tribute to Soheir Zaki of the 1960's and 1970's
BASINAH - FIRST RUNNER UP
LARA - SECOND RUNNER UP
Belly Dance Queen of Carnival of Stars
August 2, 2015
Egyptian Belly Dance Revival - This year the category is Traditional Egyptian Classical Raqs Sharqi as performed in Egypt from the '70's to the early '90's. The music, dance, costuming and mannerisms MUST conform to that time period and be stylistically and culturally correct and true to the Egyptian style of Raqs Sharqi as performed on the "cabaret" stages of the Cairo Egyptian dancers of the 1970's to the early 1990's. pre AWS.

Performance - veil and/or cymbals not necessary if it does not suit your piece of music. We are looking for authentic traditional Egyptian dance (and music) - NOT tricks. Each dancer must submit a 3-4 minute piece of music -along with a brief description of their piece to Amina Goodyear by July 4, 2015 The COS committee will then attach a drum solo and exit piece. This is what will be used in the competition. If a song is used (with lyrics - whether sung or whether the instrument is the voice) the words with a translation must also be submitted by July 4. This will be distributed to the judges.

No AmCab or American fusion music. We want to see pure Egyptian dancing before it was influenced by aggressive western styling and technique. The music (song choice), dance and costuming MUST conform to the time period between the '70's and the early '90's and more specifically must agree with contestants' description. Dance, Music, Costuming and mannerisms must be stylistically and culturally correct and true to the Egyptian style of Raqs Sharqi as performed on the "cabaret" stages Of the Cairo Egyptian dancers of the 1970's to the early 1990's. Pre AWS."
See Pure Egyptian Dancing
The Contestants
ADITI
I will be dancing to Leylet Hob, composed by Mohamed Abdel Wahab and originally sung by Oum Kalthoum, and was first danced to by Soheir Zaki. The version I will be using is from the album Sahara Sahara by Maya Naim.
My inspiration for this piece is Soheir Zaki's dance and costuming, particularly in her performances in the movies Two Women (1975, directed by Hassan Ramzi) and Nights that Will Never Return (1974, directed by Tayseer Aboud).

Translated lyrics of entire song:
My darling ,my heart beat ,and my life's light
My night's smiling ,and its fantasy,and its memory
The world became calm here ,and been eager for you
All the world ,with me here ,looked at you
The spring, the flower ,the stream
All with me ,waiting for you
All of them,darling ,missing you
For their sake ,and for my heart
For the yearning nights ,and its callings for us
Don't crucify us
Don't make us eager
And come to live our happiness here
Come here ,we will terminate our life all with love ,this night
Come here ,we will live all our yearning from our heart ,this night
Don't leave our longing to tomorrow
Don't let our happiness to tomorrow
As it's the first night for love ,this night
If all loves from all hearts collected ,my love is more
With me with me , although you are far ,but you are with me
Fantasy and eagerness increasing with me
All things around me ,making me remember you
All brightness of my eyes contain a smile of your eyes
Here is the candles which your smile lightened the tears above it
Here is your steps, your smile ,your whisper
Here is you ,all of you ,your light ,your shadow, your gentility
Come for dreams, for love, for afflatus
And we will stay awake as much as we want, and the others will sleep
Come here ,we will terminate our life all with love ,this night
Come here ,we will live all our yearning from our heart ,this night
Don't leave our longing to tomorrow
Don't let our happiness to tomorrow
As it's the first night for love ,this night
You are going to the nice nights and nice memorys
You make my diseased hopes return alive by your kindness
You are with me ,in my mind, this night and all nights
In this place darling
How many times we came ,and how much the night holded us
in this place , the same place
How much we flied in the heaven ,this night
Oh my soul my life ,in this place
I came with my eagerness ,my heart ,and my kindness
We came waiting for you
We came mulching with hope ,your steps way
And however you became absent ,you will come to me after a while
I will take your hands and put inside my hands,and hold your eyes by mine
And we live this night of life

Thank you!
Aditi aka Adriana
~~
ALMA
~~
AMIRAH AL-SHURUQ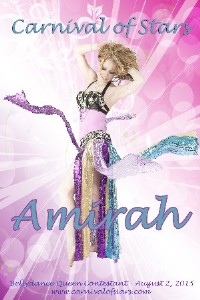 Amirah Al-Shuruq, from Cincinnati, OH, has been a professional bellydancer for the past 3 years, with prior intensive training in Russian ballet and Modern dance. She regularly entertains Arabic and international audiences at professional venues such as local restaurants, charity and corporate events, festivals, theater shows, and parties across the region. She won the Cincinnati Top Belly Dancer contest and placed in other regional competitions as a soloist and with her troupe. Golden era raqs sharqi is her passion, but Amirah has also been known to break out some shaabi, mahraganat and other Egyptian folkloric dances. Amirah claims to be Nagwa Fouad's biggest fan, but her other influential dancers are Samia Gamal, Naima Akef, Naemet Mokhtar, Kitty Fotsaty, Soheir Zaki, and Mona Said. She is co-manager and dancer in Troupe Shuruq and lead bellydancer of Dramatic Rhythms.
I am performing in the style of Nagwa Fouad from the 1970s. Nagwa danced in over 250 films, while concurrently performing in nightclubs and hour-long musicals on TV. Nagwa's career started with the classic style of the golden era and transformed into a more relaxed baladi style in the early 70s. Nagwa's performances included grounded, gooey, free-spirited improvisation, the core of Egyptian dance, mixed with just the right amount of choreography. I am performing a structured improvisation to Hanady, released in 1973 by Hany Mehana. Nagwa danced to this song in a nightclub scene from the thriller movie kan wkan wkan in 1975. The costume is inspired by the decade, and is similar to the costume Nagwa wore for her 1976 stage performance in Paris, with double slits revealing the legs, an overdose of sequins, and fringe that dances with the movements.
~~
BILQEES ATIYA
~~
HANA
~~
KERIMA:
I am performing in the style and time period of Hyatem . Hyatem was born in 1950 in Alexandria, Egypt. She began performing in hotels and nightclubs in the late 60's , then appeared as a belly dancer and actress in several Egyptian movies through out the 70's and 80's. I will be dancing is a style typical of her nightclub show that will include part of a mergence and a taxim beledi.

The name of the song I am dancing to is Rakset Nelly, composed by Ali Sourer, a Keyboard player married to Nelly Fuad. This song is from the album Exotic
Oriental Dances vol 2, composed by Ali Srour , released in 1977. The album features Reda Darwish playing bongos at the young age of 13. Reda now living in
San Francisco, said that album was recorded live in one day. I chose the song Rakset Nelly for its funky 70's keyboard sounds that were popular at the time.

My costume is a replication of one that Hyatem wore in an Egyptian VHS tape that introduced western belly dancers to famous Egyptian dancers. The dance that
Hyatem performed on this tape wearing a blue snood, made me fall in love with her. Movements typical of Hyatem's style include bouncy chest movements, small up and down hip movements in circular patterns, and use of her hands and facial expression to give those movements a playful, flirtatious feel. Hyatem is the queen of walking and does a lot of it. Each walk says something new with irresistible pauses along the way full of expression and promise. I hope to capture the essence of Hyatem in this performance.


~~
NATIKA
My performance typifies Nagwa Fuad's style throughout her career from 60's to early 90's.
Nagwa's movements and dance styling varied to match maisonscène – the size, space, and scene parameters, from more intimate scenes in small cafes, as in the movie "The Female Boss", to movies with larger Hollywood settings, e.g. "Police Inspector" 1960. No matter, how large the stage, her floor pattern and energy projection always filled the space. When she took a step, her movements flowed through the body, and characteristically she would often end her movements - punctuating the movement with a shoulder accent in her own inimitable Nagwa style. The special Nagwa style movement projected her powerful inner energy to the direction she was going, and then she would gather, redirect and project her energy with another step pattern in the same musical sequence. In early 60's when she danced in smaller spaces, she would dance more intimately with typical Raqs Sharqimovements including more detailed hip work layered with layback-bends, hip circles with stationary swaying, often ornamented with chest circles and hypnotizing hip drops, (The Female Boss movie 1960). In 70's she would use the same amount of space differently, entering with a veil, and including many spins and broader movements. Dancing with a veil her every move included flowing arms position and posing that accented her flowing dance style.

For Nagwa's dance styling, it was very typical for her to keep her arms held high, framing her movements, and extending her arms and torso in beautiful body lines. Because of her special performance technique with arms framing her movements, she would look like a beautiful statue the end of her movement.
Her stage craft for the large stage included extensive use of the entire stage and she included many movement repetitions. For example, when performing in large social halls and hotel banquet rooms Nagwa would perform presenting to all sides of the audience, and use longer repetitive sequences to travel across the stage. A professional, she always gestured to the audience and looked them in the eye, as if she were dancing for each of them individually. It's easy to see the signature Nagwa performance projection in her live performances in 90's. The memorable signature Nagwa performance movement was to throw her head angle, and pose with a radiant smile while making that special contact with her audience. Of course over the years she changed alot, the Nagwa in 60's is much more elegant and restrained then the Nagwa we see performing in 90's. Her arms are still graceful, but now she often put them on her hips or holds them behind her back. To me personally, her arm placement adds some "dala'a" cuteness to her dancing; which is why I decided to include this period of her career in my choreography too.

The music I use is by Ahmad Fouad Hassan – Sahara City. Nagwa was married to him; thus he is definitely the main composer in her life and career. I personally love this song.

The inspiration for this costume is "A Bad Reputation Woman" movie, which is my favorite from all the Golden Era. The costume… is a personal choice for me; because, to me this costume is so "Nagwa" – with costume styling that is brave, almost risky, and yet also very elegant!

In my performance I use veil, including dancing with it draped on my arms. Nagwa dances with veil a lot, using it often to extend her movements. I will definitely make an eye contact with the people in the audience, as she would do on raised big stages (like a stage of Carnival of Stars). And of course I'll pay a tribute to her 60's shows, dancing with many elements and dancing on a small one meter spot, and also include her style of dancing the 70's – which was faster and lighter. I will try to move and perform to "Sahara City" music to showcase the different and changing performance style of Nagwa throughout the 60's to the 90's – while trying to keep my performance true to the Nagwa Fouad dance style and her unique voluptuous elegancy.
~~
SARAI
I injured my knee earlier this week and was waiting to see if it would resolve. I have to bow out of the competition as I can not bend and straighten my knee easily. Very disappointed as I finally got my gold fringe Mona Said style costume together. Hope you understand
Unfortunately, I am now awaiting X-ray results and then have to see about getting a MRI. Worst timing ever.
~~
TABITHA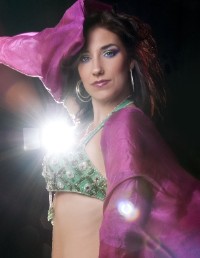 Tabitha has been studying the art of belly dance for nearly 15 years. She performs in clubs and restaurants and community events throughout the Bay Area. She is also a member of the multi-award winning troupe Raks A'diva. In May, Tabitha and her business partner Angelina purchased Belly Dance! Studio in Walnut Creek. The studio has been open since 1967, originally opened by Sula Frick and then owned Leea Aziz for the past 37 years. Tabitha is excited to be teaching classes and beginning a new journey in her dance career. For more information, please visit: bellydancewalnutcreek.com
Tabitha's performance is inspired by the sweet and sensual style of Mona Al Said. While trying to emulate a dancer, especially such an icon as Mona, seemed
impossible, Tabitha chose instead to capture the essence of Egyptian dance of the 1980's with the simplicity a gracefulness of Mona. She chose to dance to
the song "Hani" which was, and is, a popular entrance song for dancers. Surprisingly, there is very little knowledge recorded about this song, even the composer has conflicting answers. My personal guess, from the research I've done and the people I have talked to, is that it was composed by Hani Mehana.
The name Hani means "happy" so if it is not named after Hani Mehana, then at least I know the overall feeling of the song! Others think that the song
predates Hani Mehana and might have been composed by Mohammad Abdel-Wahab. Some of the confusion comes from the fact that the popular song Mashaal, which was also composed by Mehana, is called "Hani" on several recordings. Both of these songs have stylistic similarities which is why I came to the conclusion that I did. The version that I am dancing to was recorded in the early-mid 1980's.
~~
ZIZI GAZEL
Hello,
I'm Zizi Gazel.

I've been in a love affair with Belly Dance ever since I was a little girl. Growing up in Turkey of course I was more exposed to Turkish Oryantal but when I moved to San Francisco I also became interested in Classic Egyptian style and I was lucky to be blessed to work with Amina Goodyear.

As soon as I heard about this competition especially the concept of it, I know I wanted to be part of it!
I chose this cute song from one of Henkish's album. It talks about three dancers dancing to wahda beat and that the three are obsessed with dancing and that they really admire their drummer "Henkish" of course!

My competition piece is inspired by dancers like Fifi Abdou, Azza Sharif, Nagwa Fouad and even some Mona Said.
My goal was to stay true to the era (70's and 80's) while incorporating their style into my own routine but leave some room for improvisation and some personal( but hopefully era-appropriate) touch-ups!

Thank you
Zizi
~~
THE CRITERIA
Did the dancer do her research and make sure that everything conforms to the same time period chosen by the dancer?
Stage presence and personality. Does the dancer also reach out to the audience? Is the dancer entertaining? Mannerism/style of dance/personality/audience interaction. Modern Oriental dance is rather aggressive, athletic, direct and can be too busy. The contestants should dance and act appropriate to the style chosen and act more like the dancers of the 70s-90s.

Execution of movement and musicality. Is it appropriate to the piece chosen - rhythmically and musically (phrasing, lyrics) correct?-
Technique. Not so much the difficulty and execution of the technique, but its appropriateness to the chosen time period and dancer.
Choreography. Appropriateness. For example, if a dancer chooses Fifi Abdo, she should stick to Fifi's simple moves.

Song choice. Keep dance style appropriate to song choce.

Costuming (overall appearance - but not a beauty pageant - ) The aesthetics of appearance such as clean styled hair, steamed, clean, well fitting and stylistically correct costume, etc. Is everything appropriate to the style of the era/dancer chosen.

Overall impression. How well do you like the particular dancer and is she memorable?
The JUDGES
Anne Lippe is a dancer who came from the old days. She was the "go to person" if you wanted to visit Egypt in the 70's-80's. She kept an apartment in Cairo (with a phone, no less. Those were the days of no mobiles.). More to follow.
Dahlena - Long before Nagwa, Sohair and Fifi were common names in our belly dance community, there was Dahlena. Although she first danced in America on the East Coast (Boston), not in the Middle East (Cairo), she brought the true essence of Oriental dance to the U.S. With a strong dance background (the usual ballet and etc.) she was one of the artists instrumental in making Belly Dance an American phenomenon. Because there were no schools in 1959 when Dahlena first began performing, Dahlena learned by watching the ethnic community's family dancing.
As a member of AGVA, American Guild of Variety Artists, she found several agents who introduced her to touring, Her dance jobs took her to clubs across the United States - Boston, New York City, Washington, D.C., Detroit, Chicago, Hollywood, and San Francisco and eventually she ended up dancing in France and the Middle East. In the Middle East Dahlena experienced many of the same challenges she had faced in American clubs, but they differed in how they dealt with the relationship between the dancer and the public. Dahlena also went to Egypt for a month to observe and study the dance there. She eventually returned to Egypt leading group tours.
In the States she performed with many "first generation" dancers including Egypt's Jamal twins, Lyn and Lys, Princess Yasmena from Algeria, Syria's Samia Nasser and Emar Gamil from Greece.
In addition Dahlena has written The Art of Belly Dancing, coauthored with Dona Z. Meilach. produced two record albums of Middle Eastern music and a CD Sohair Zaki Live, a recording of music used by Sohair Zaki in 1981. She has produced at least six instructional videos, In 1982, the American Academy of Middle Eastern Dance (AAMED) recognized Dahlena's pioneering accomplishments and named her as one of the first inductees to their Hall of Fame.
Dahlena continues to dance, choreograph, teach, research, write, produce audio and video recordings, and mentor.
Inspired by Habibi article by Farida Gamal

MaShuqa Mira Murjan - Ma*Shuqa is known internationally as the "elegant" performer with a unique style of dancing which blends the music and dance into a compelling art form.
Ma*Shuqa worked overseas in with Turkish bands and Greek bands. She overcame the challenge of the language barrier and developed shows together through the medium of rhythm and cymbal playing, and humming the music. Ma*Shuqa teaches a unique Ma*Shuqa Method approach for dancing and playing cymbals in performance to live music. She was also an early adopter of shamadan dancing, and performed with a real candelabrum in Europe. She was the first dancer to dance with Isis Wings with Isis Wings that she created – and is known for her performances with Isis Wings. Her Egyptian styling is a result of study with Mahmoud Reda and performances in Cairo.
Ma*Shuqa has been performing for 43 years and teaching and coaching 42 years. She extensively researches the music and dance and has authored many articles on rhythms, musicality, maqams, and the essence of Arabic music Tarab. "Taqsim and Tarab: Movement and Musicality". She has authored an article series on the subject of "The Professional Difference – Elegance of Style" which defines professionalism in this dance genre and provides guidelines and direction for developing professional dance quality in Raqs Sharqi performers. She has coached many award winning dancers in competitions in the U.S. and abroad. With an academic background and graduate studies in education and instruction, and in health education, Ma*Shuqa has the expertise to discern quality performance and has been invited to judge many dance competitions in the U.S. and in Europe.
Thanks and appreciation to Pepper Alexandria and Amina Goodyear for organizing an Egyptian Competition to challenge dancers and assure the continuity and future of professional quality Raqs Sharqi.
Ma*Shuqa teaches weekly classes and private classes at her Los Gatos Dance and Photography Studio. She has been teaching and coaching for over 40 years and is known for the Ma*Shuqa Method format of developing unique dance styles – that brings out the best in each student. www.MaShuqa.com
Sherifa Zuhur (aka Samrah Masoud) - Sherifa Zuhur began performing under the stage-name Samrah in raqs sharqi as a teenager, working in Europe, various U.S. cities and in Egypt. She performed with the legendary actor/singer Samir Sabry and with dancers of the true Egyptian style like Nagwa Fouad, and other famous stars of Arab music, dance and film. She was featured in folkloric performances in Egypt as well, and other Arab folkloric styles in the region, performed for the Arab League and has directed and choreographed several dance troupes. As a musician, she played with Ali Jihad Racy's and many other ensembles, has sung with numerous vocal groups (including with the Cairo Symphony orchestra and Cairo Choral Society) and established and directed the MIT/Harvard Arabic music ensemble, which developed into the Arabic Music Retreat. She has a PhD from UCLA and has written and edited books on music and the arts of the Arab world in addition to her main field, which is Arab politics. She thanks Amina for the honor of being asked to judge today's talented dancers. She is very pleased that the festival's producers are enabling the preservation of raqs sharqi and its rich history.

Terry Del Giorno -Terry has been studying Belly Dance since she was a teenager and teaching for the last 20+yrs in the Bay Area. She first started her study of Egyptian dance, (like a lot of dancers did) with VHS tapes of Mona Said, Nagwa Foud, and Nelly Fouad. She continued her studies with Master Instructors Sahra Saida, Shareen El Safy and Safi (Ann Ziemienski), well-respected American dancers who had worked in Egypt. She continues to study here and abroad with world-renowned Egyptian dancers. Her last trip to Egypt was in 2011, leaving just days before the revolution and she hopes to return soon.
She considers herself lucky to have been performing when opportunities were plentiful and being the "house" dancer was the norm not an exception. Those kinds of gigs where a dancer could develop a show with her band and had the full cooperation of the management. Terry performed in nightclubs like Scheherazade, Petra, Sultan's and Luxor where her shows catered to the audiences who were eager to experience the dance and the music of their culture, left behind in the Middle East.
Terry regularly performed for the Egyptian American Association, Lebanese American Association and Syrian American Association as well as countless weddings and private events.
She opened for Arab entertainment legends like Sabah, Warda, Nourham Hanna, Walid Toufic, George Wassouf and Ragheb Alame.
Terry considered herself a"working dancer" and never competed. However, she does admire and applaud all the dancers' who bring dedication, hard work and artistry to the stage for these events.
Terry thanks COS producer Pepper Alexandria for continuing their efforts at creating this festival for local and visiting dance artists. Special gratitude to Amina in creating the contest and inviting her to sit amongst the talented judges.
Tie Breaker - 2014 Queen Irina Eshta
First introduced to Belly Dance in 2002, Irina went on to accumulate trophies in numerous competitions. Last year she became Belly Dance Queen of Carnival of Stars for her performance.

"Irina's performance is a tribute to Soheir Zaki, a legendary Egyptian dancer of the 1960's and 1970's, both in film and on stage. Known for her meticulous ear for music, Soheir Zaki became the first oriental dance artist to perform to the music of Oum Kalthoum. The 1973 song used for the performance, Leilet Hob, from the album "Leil Sabr Hedoud / Leilet Hob", is one of the ten songs composed by Modamed Abdel Wahab for Oum Kalthoum, with the lyrics written by Ahmad Shafiq Kamel. The choice of the song is inspired by a scene from the 1974 movie Lyaly Lan Taaood (Nights That Will Never Return) directed byTayseer Aboud, in which Soheir Zaki is dancing at a restaurant wearing a green bedlah costume.

To recreate Soheir Zaki's signature 1970's look, Irina will wear a green short beaded fringe bedlah costume with an added body stocking, a fully sequined arabesque design of a chiffon skirt with the forever-famous two slits, and silver flats, Soheir Zaki's preferred footwear. The movements used in the interpretation of the song are typical of Soheir Zaki's dance style, characterized by simple relaxed arms with some wrist circles and hand gestures, small steps with body weight changes, relaxed Egyptian isolations, hip circles and full body circles, forward hip lift accents, shimmies stepping forward, relaxed and short spins, and musical accents caught with precise stops._Like Soheir Zaki, Irina strongly believes that dance is art and must always be honored and respected, and that "being a dancer is not about showing off your body and posing on stage", but is about interpreting the music, dancing from one's own inspiration and feeling, and letting the music move your body.As said in a famous song by Oum Kalthoum, "So you want to go back to the old days?"
Grand Prize Belly Dance Queen of the Golden Era of Egypt Dance:$100; Trophy, Crown donated by Multi-Kulti; Banner; Free Entry to BDUC 26 and free registration in Egyptian Category BDUC 26, Gift bag from Wicked Smilies, Dinner gift certificate donated by Al Masri Egptian Restaurant, Featured dancer at the Carnival of Stars Evening Show 2016
First Runner Up: $50; Trophy; banner, gift bag from Wicked Smilies
Second Runner Up: $20, Trophy, Banner, gift bag from Wicked Smilies