EVEN THOUGH I HAVEN'T POSTED ANYTHING ON THIS PAGE FOR A WHILE, GIZA CLUB HAS BEEN GOING STRONG. WE'RE VERY ACTIVE. LATELY MOST OF THE MEETINGS SCHEDULED ARE RELEVANT FILMS (EITHER TIMELY, OR BY SPECIAL REQUEST) OR WACKY WOMEN TALKS. DUE TO SPACE WE HAVE BEEN LIMITING MEETINGS TO "BY INVITATION ONLY." IF YOU WOULD LIKE TO BE CONSIDERED, PLEASE Contact us
Giza Club meets about once a month.
May 16, 2015 - 1980's dance clips
***
June 6, 2015- Wacky Women Travellers
"Researching Asmahan"
Sherifa Zuhur will give the informal version of her travel experiences while writing her book about Asmahan. The book has a long back-story ... finally Sherifa was honored to receive a Fulbright research grant to work on it. Lots of work took place in library archives in Europe and the Middle East - but she also decided to physically retrace this great singer's life from her birth to her death, going to each location - so that took her to Turkey, Beirut, southern Syria, Damascus, Cairo, Ras al-Barr, Alexandria, Jerusalem (she had a BFF there).
There will be a few books for sale - the Asmahan book and a few other books on the arts. (All written by Sherifa.) Get a book or two. They're all great reading. Have them autographed by Sherifa and keep the pen.
Dress up in the fashion of the 1940s if you feel like it! If there is time, Sherifa will demo a bit of the way the tango and other dances were incorporated into the 40s fusion of modern Arabic song & inspiration from Latin-America (subject of a future event) and the melding of Syro-Lebanese traditions with Egypt's own. Let's revive the use of some of her songs in our BD world, now that so much is staged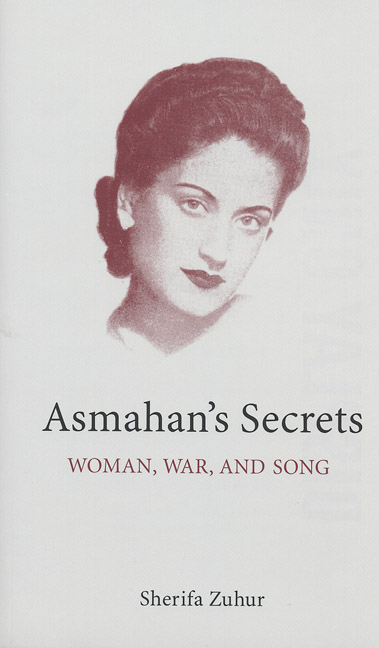 The great Arab singer Asmahan was the toast of Cairo song and cinema in the late 1930s and early 1940s, as World War II approached. She remained a figure of glamour and intrigue throughout her life and lives on today in legend as one of the shaping forces in the development of Egyptian popular culture. In this biography, author Sherifa Zuhur does a thorough study of the music and film of Asmahan and her historical setting.
A Druze princess actually named Amal al-Atrash, Asmahan came from an important clan in the mountains of Syria but broke free from her traditional family background, left her husband, and became a public performer, a role frowned upon for women of the time.
This unique biography of the controversial Asmahan focuses on her public as well as her private life. She was a much sought-after guest in the homes of Egypt's rich and famous, but she was also rumored to be an agent for the Allied forces during World War II.
Through the story of Asmahan, the reader glimpses not only aspects of the cultural and political history of Egypt and Syria between the two world wars, but also the change in attitude in the Arab world toward women as public performers on stage. Life in wartime Cairo comes alive in this illustrated account of one of the great singers of the Arab world, a woman who played an important role in history.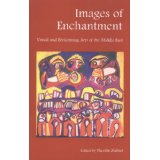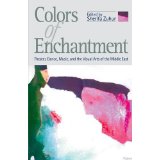 The Giza Club is by invitation - contact Amina
***
Giza film showing Saturday, November 1, 2014 at 3 pm rsvp
b&w Ismail Yassin
****
MIGRATIONS
The Origin of all Things.
Real and Imagined

This is a show-and-tell discussion about the great movement of people, material goods and ideas on the Silk Road.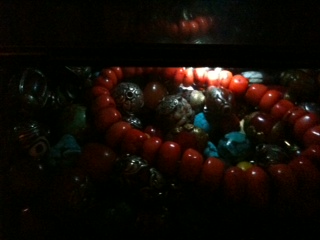 Gregory and Amina will present objects from the Aswan permanent collection with some assistance by rare video clips.

A Giza Club event for members only.


Interested in the Giza Club and want to join?
Contact me for more information.
Sunday, November 18, 3 pm
Giza Events are potluck and rsvp only.

---------------

Save the dates:
for information on Giza Winter Films
October 28, November 18 and December 3, 2011
*****
Giza Club Meeting with Leila Farid
Giza Club Discussion and Potluck Party (rsvp please)

Sunday May 8, 2011 - 7-10 pm -Leila, Yasmin & You in a Giza Club discussion

A discussion on the dance in Egypt under the old regime - how the censorship of the arts in general lead to the decline in Raks Sharqi (people blame Egyptians for that, but the government had a lot to do with it). What hopes there are for the future of the dance in a more open society. Have foreigners carried the dance torch during these oppressive years or have they manipulated the dance to be more Western? Can Egyptians reclaim the dance on their own terms?
aminajune@aol.com for more info
Since 1990 The Giza Club has been hosting free potluck parties and events
featuring topics of interest to Middle Eastern Dancers.
*******
Check
for information on movies being shown
March 19, April 2, April 16
more dates being added soon
******
Giza Club Summer Film Festival - 2008
Sundays at 3 - June 29, July 12 and July 27
Now Showing Sunday June 29 at 3 pm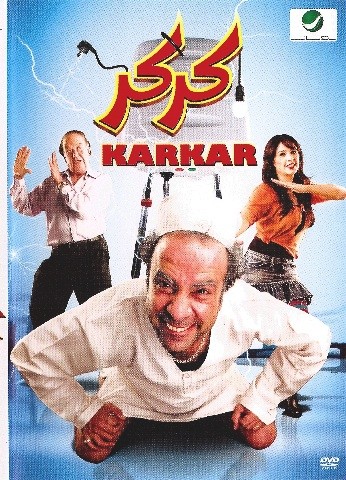 KarKar
KarKar el Hennawy has a terrible accident on his wedding day that renders him completely crazy.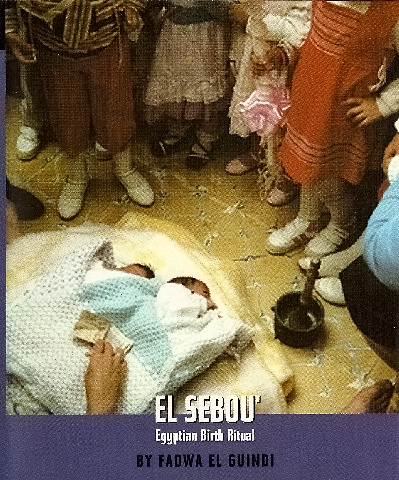 El Sebou'
This documentary celebrates the newborn's crossing from a neutral gender and status into a world of gender differentiation and family hierarchy.

Aida Nour
and a few dancers other Nile Group & Ahlan wa Sahlan videoed by Amina 2006
Giza Club events are potluck optional
rsvp aminajune@aol.com
Check back soon to see program for Sunday July 12 and 27
******
Giza Academy Awards tba soon
******
Layalli al Sharq (after clicking you need to scroll down to August 11, 2007) perform at The Giza Club August 11, 2007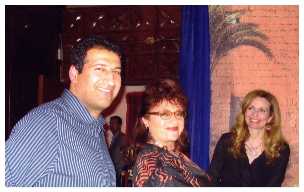 Husain - Erena -Angela
Layalli al Sharq musicians (are Giza Club members)
at Luxor Restaurant
*******
Giza Club Summer Film Festival - 2007
Saturday, 7 pm, July 14 -

THE HIDDEN HALF
(Iranian) (108 min)
Khorso is sent from the president's office on a fact-finding mssion to
Shiraz. His orders are to investigate the complaints of a female
political prisoner, awaiting execution. Khosro's wife, being of the same
generation as the prisoner, decides to do something about her situation.
In order to help her, Fereshteh writes of her own participation in the
revolution, of which her husband is unaware.
In his hotel room in Shiraz, Khosro begins reading his wife's memoirs
the night before he is to vistit the prisoner.

Excerpts from FORBIDDEN ART
produced by Shahrzd (Giza Academy Award winning dance film - 2003, +/-
30
min.)

THE ROMANY TRAIL
(rereleased dvd - 2002, approx. 60 min)
Takes you on a search for the "lost" gypsy tribes of Egypt, etc.
Discussions on films
*****

Sunday, 2pm July 15

VIVA LALDJERIE
Algeria, (110 min)
Algiers, the winter of 2003: Three women have been living in a hotel in
the centre of town since the violence started. The daughter has chosen a
modern, emancipated life for herself by working for a photographer,
taking a generous married lover and spending seamy weekends in
nightclubs. Her faithful friend, prostitutes herself under the thumb of
a powerful and "kind" protector.
Meanwhile the mother bides time, torn between fear and nostalgia.

THE ENGLISH SHEIK AND THE YEMENI GENTLEMAN
Yemen, (76 min) This lyrical
film introduces us to Bader Ben Hirsi, a British-born Yemeni living in
London after his parents' exile from Yemen. Bader returns to Yemen to
re-discover his country, its people and traditions.

ZRAREET!!
American, 2007 (1/2 hr)
In this charming take on a home movie, American-born Muslim filmmaker
Khadijah Chadly and her husband Yassir return to his native Morocco for
a family wedding.
Discusssions follow films
****
Saturday 7 pm, July 21

SABAH
Canada, (90 min) Canadian Award winner
Sabah is an unmarried 40-year-old woman of Syrian birth who lives in
Toronto with her traditional and sometimes overbearing, but loving
Muslim family. When Sabah falls hard to a nice Canadian guy she meets at
a local swimming pool, she has no choice but to hide him from her family
as she attemps to live up to their expectations.

WEST BANK STORY
American, 2007 (1/2 hour) Academy Award winner
A take on West Side Story, a musical, a Palestinian/Israeli love
story...

*****
The Giza Academy of Middle Eastern Dance Videos presented
The 10th (tenth) Annual Giza Academy Awards February 17 & 18, 2007
Do you have suggestions for entries for our 11th year?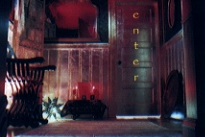 WELCOME TO THE GIZA CLUB!
********
The Giza Club, in existence since 1990, began because when The Aswan Dancers performed they wanted people to know more of the cultural background behind the music and the dance.
Amina, founder and artistic director of The Aswan Dancers, realized that her students and friends wanted to know more about the Middle Eastern, North African and Mediterranean culture than dance classes and the daily news could provide.
And so -----
The Aswan Dancers presented a Summer Series of lecture/demonstrations and Culture Caravan performances. The Summer Series featured lectures on the dance and music of Lebanon, Morocco, the Egyptian Ghawazee culture and the Algerian Ouled Nail. The Culture Caravan shows were full-blown performances featuring Bay Area artists peforming ethnic dances from around the world.
The Culture Caravan was successful but short-lived, due to the cost of putting on peformances of such a wide scope. But the idea of presenting entertainments about the Middle East, North Africa and Mediterranean that were also educational had not died due to lack of funds. It remained alive in the imagination of Amina Goodyear and became THE GIZA CLUB!
The Giza Club is a non-profit organization devoted to the study and understanding of Middle Eastern culture. We present events covering the arts and society of the Arab world and its cultural influence on its neighbors.
Events may be formal, featuring lectures on music, dance, literature, food -- even fashion and every day life. But we also hold less formal happenings, such as potluck parties with ethnic food or shows involving The Aswan Dancers, the "god-parent" organization of The Giza Club.
Each event scheduled focuses on a specific country or a particular aspect of the culture. These events may occur at various sites from houses, to church halls to local nightclubs to universities or at The Giza Club's headquarters on Elizabeth St.
Some of the ongoing events at The Giza Club are the Giza Cabarets, the "wacky women traveller" series (see postcards on Giza.org and the annual Giza Academy Awards.
First Fridays at Giza is now changed to Second Sunday Sinima This will be an ongoing Giza event in addition to the regular irregularly scheduled events. The Second Sunday Sinima Series will feature scheduled and requested videos from the Giza library.
The Wacky Women Travellers series dates will begin with Laura speaking about her adventures in Egypt. Other scheduled speakers are) Linda Mahboula (Algeria), Hana (weddings in Pakistan and India) and Dhyanis(dancing abroad).
Hope to see you soon at The Giza Club.
Giza Club members are not just local. You may also be a national or international member. Contact us at aminajune@aol.com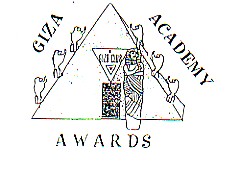 email aminajune@aol.com for details
*****
The Giza Club is a non proft organization devoted to the study and understanding of Middle Eastern and Mediterranean culture. We present events covering the arts and society of this region, focusing on the Arab world and its cultural influence on its neighbors.
*****
Past Events
Wacky Women Travellers
Saturday, January 21, 2005 - 5 - 8 pm
Laura's Misadventures in Egypt
Did you ever want to just take off and
Live like an Egyptian
Laura's stories are definitely not your averagedancer goes to Egypt to study, shop and dance stories.
Stories, photos and more.
******
Second Sunday Sinima Series
(Due to The Aswan Dancers Sunday Shows at Excelsior being moved to Arabic Friday at Excelsior, we will for now be doing our once a month video series on Sundays)
We will be showing more dance videos from Giza Academy Awards entries
"You choose what you want to see!"
See you there!
******
Saturday, December 3, 2005
*****
World Premiere of
Belly Dance Documentary
The Journey
and meet the filmmaker
Michael Saliba
July 22, 2005
***
Persian Film Festival
Narrated by Naz
July 9, 2005
***
Giza Cabaret
Saturday, 8 pm April 2, 2005
Special Attractions
HUSSEIN DIXON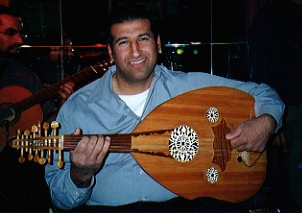 singing and oud
(available for private oud lessons)
contact
AMINA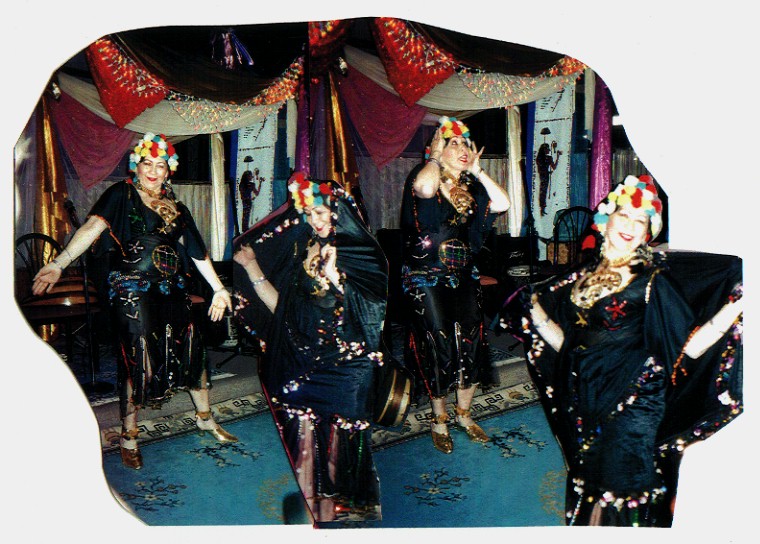 and others performing
***
Friday, February 11, 2005 at 7pm
"Khallee Balek min Zouzou"
It was be fun to see it together. (theme: Clean cut Egyptian college girl works as a Mohamed Ali dancer in the evenings. She is "found out".)
*****
The State of the Dance
Giza Club meeting Sunday Jan. 30, 2005 - 3 pm -7.
A discussion on the State of the Dance + more Giza Academy Award winning videos.
We all have a deep love for this dance, our art form, and we want to see it get the respect it deserves. Every one of us has put a great deal of time, effort, blood, sweat and tears into developing our talents and into creating suitable venues to showcase the dance.
*****
See Giza.org on how to become a member

January and February featured excerpts from the Giza Awards entries.
Giza Academy Awards of Middle Eastern Dance Videos
Reception, Awards and Video viewing held at the Giza Club
Sunday, Dec. 5, 2005
Show at TropiGala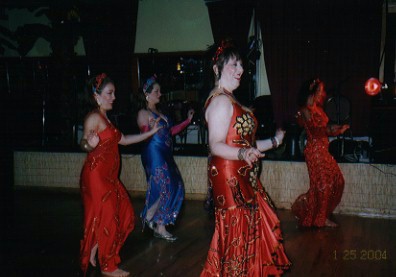 *****
The Giza Club went on 2 Field Trips to Berkeley
On November 21, 2004 we heard Dr. Elizabeth Fernea speak on the Changing Role of Women in the Family in Egypt Today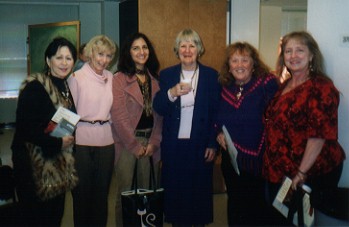 (Amina, Heather, Andrea, Dr. Fernea, Linda and Leyla)
On December 12 we returned to see a documentary on Old Cairo. This was produced by Dr. Elizabeth Fernea and presented by ARCE (American Research Center in Egypt).